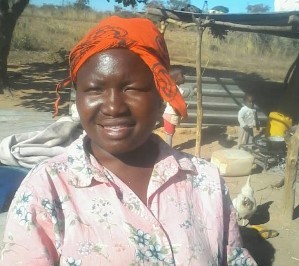 Faith Gunda Testimonial
My name is Faith Gunda from Rusape in Zimbabwe. I am a Tuberculosis survivor. When I fell ill I didn't know what was wrong with me. Being from a rural area I didn't visit a hospital but just bought pain killers and prayers but nothing seemed to be working. I was losing weight and constant chest pains. It was only after Madam Makona, a DAPP community volunteer and Mr Nyanhongo, came home and sensitised me and my family on the signs, symptoms and treatment of TB that I understood what was wrong with me. After some convincing I gave them a sputum sample that was taken to the hospital for testing. After a few days the results from the hospital came and I was informed I had to undergo an xray test at the local clinic. The X-ray test together with the sputum tests showed that I had tested positive for Tuberculosis. The Field Officer together with the nurse explained the treatment options and I started taking TB medicine.
When I went to the clinic , my husband went with me and together we were informed about the importance of support when taking the medicine. The Field officer introduced us to what they call a TRIO treatment support which would be comprised of me the patient ,my husband and the field officer. This Trio was meant to support me during the time I will be taking my medicine to ensure that it is done on time and consistently.
We were also told that my whole family must be tested for TB. Kelvin,my husband, and children, Patience (2 years), Darlington (7 years) and Farai (1.6 years) went for X-ray tests and were found to be having TB. It was a difficult time for my family. But we support each other and the Field Officer stood by our side and visited us often to make sure we were taking our medicine correctly.
We started taking the medication and we started recovering. I personally am now fit and I do help my spouse and family. I gratefully appreciate DAPP Zimbabwe  for coming to my family's rescue. If it was not for this organisation, early death would have been the fate of my family and I.
DAPP Zimbabwe is currently implementing the Total Control of Tuberculosis and HIV Integrated program which is responding to the burden of  TB  and HIV in Makoni District in Zimbabwe.  The project is working to combat tuberculosis and HIV in the area, to reduce stigma and discrimination related to TB and HIV infections as well as increasing awareness, diagnosis and treatment services. This is done through targeted case finding done at community and household levels. TC TB Makoni  uses the door to door  approach and encourage people to get tested.