Development Aid from People to People (DAPP) Zimbabwe HOPE Bindura in partnership with UFF-Humana has launched a youth communication center aimed at improving internet access and computer literacy skills among in and out of school youths in Mashonaland Central Province. The communication center which is an initiative of two HOPE Bindura volunteers is expected to increase access to information through innovative, interactive Information, Communication and Technology (ICT) based solutions.
Speaking during the official opening of the center, Minister of state affairs and devolution for Mashonaland Central Province Honorable Monica Mavhunga said, the timely intervention of UFF- Humana comes at a time where social concern on drug abuse, reckless behavior and early child, marriages has been on the rise in Mashonaland Central Province. "I believe this center will not only strengthen skills development but will also open up new employment opportunities and increase incomes for sustainable growth". Honorable Mavhunga commended the duo who spearheaded the formation of the center saying that the true development happens when people work hand in hand to improve their communities.
Speaking at the same occasion DAPP Program's Director Ruth Makumbe highlighted that communication facility will bridge the digital divide and aid students in their studies and soft skills development. Ruth Makumbe further said DAPP aims to extend such initiatives to other provinces in line with the government's rural digital transformation drive. "We will continue to support the Government of Zimbabwe in its efforts to ensure that communities have access to Information Communication Technologies (ICTs) for development"
The co-founders of the Youth Communication Centre initiative Tatenda Muchawuya and Ross Phiri said they hope that the center will act at as portal to a global village that is critical for youth. "Connectivity is a key driver of youth development and thanks to UFF-Humana, the young people of Mashonaland central will have access to new opportunities across the board"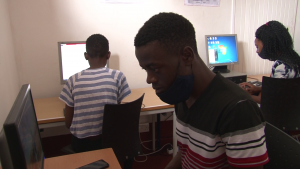 DAPP HOPE Bindura Program's Manager Becky Njopera said the center is on the trot despite being in the infant stages. "So far 300 youths have visited the center and 25 have received computer literacy training. We hope to reach out to more young people with various skills development trainings"
The Acting Country Director for DAPP Zimbabwe Luckson Soda took the opportunity of the UFF-Humana funded Bindura Youth Communication Center, official launch, to accentuate the long-standing relationship between DAPP Zimbabwe and her sister organization, He appreciated the gesture of selflessness demonstrated by the people of Denmark in sourcing the much-needed resources for development work in Zimbabwe. "UFF-Humana supports the work in Zimbabwe through partnering with other development agencies in Denmark like Recycling for Development and Danish Emergency Relief Fund (DERF) who have been pillars of support to our emergency and development work. The gesture is especially huge, coming to the Zimbabwean community, where only one quarter of the population is said to have access to the internet and about 23% have access to a computer".
Luckson Soda highlighted that the computers and second-hand furniture has added immense value to the community by redefining the youth culture which now consists of visiting the center for research and recreation both of which are critical in shaping the innovative future of the youths. "I envision the center being a hive of activity for thousands of youths coming to interact and learn". He could also see the continued relationship with UFF-Humana as a window of opportunity for reaching out to other marginalized districts of Zimbabwe.